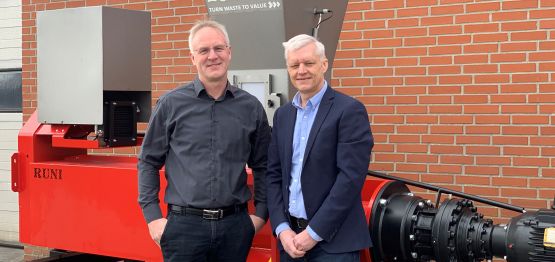 New CEO at RUNI
There is a boom in the circular economy and a great global demand for RUNI's solutions. This is how Torben Dysager, current CEO of RUNI, describes the reason that Anders Thygesen will take over the job as CEO from June 1st, 2021. Anders Thygesen comes from a 38-year long career at Vestas (a Danish Wind turbine manufacturer) - most recently as Head of Operations at the Nacelles factory in Ringkøbing, Denmark.
Torben Dysager elaborates:" Today we are a strong team of 35 employees, and despite a year with Covid-19, we are looking ahead to the company's best result. I am convinced it will be very valuable for RUNI's continued development to have a man like Anders as CEO of RUNI, with his strong performance and many years of management experience."
Exciting future with huge potential in sustainability and recycling
Anders Thygesen looks forward to the new challenge and states:" I think it is an exciting change with the new position as CEO and I look forward to getting started. During my time at Vestas, I learned that it is the relations between people that creates the results. It has also been important for me that Torben and I have had long discussions regarding how to manage our new positions – I will be the CEO whereas Torben will keep the stock majority. It would have no interest to me if there were lack of sympathy and respect for both roles and the man behind. I look forward to working across areas and hopefully being able to contribute to the development.
I see an exciting future for RUNI. There is a huge potential in sustainability and recycling. It is our job to get products on the market that support the need. With my knowledge of RUNI and not least the committed employees, all the conditions are present to be able to continue the growth".
Continues as working chairman of the board
Torben Dysager, who continues as working chairman of the board, will in the future put his energy into what thrills him the most: "Of course it is a little strange to pass on the job as CEO after 20 years, but since I am best at selling and developing opportunities for the application of our technology, we have now reached a size where the CEO job fits best on a profile like Anders. I am really pleased that RUNI gets such an experienced leader with a lot of energy and drive as team captain".